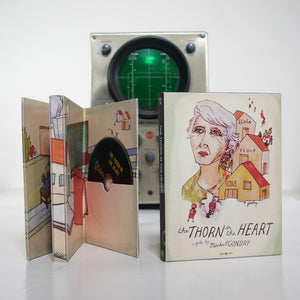 The Thorn in the Heart (L'Epine dans le Coeur)
 THE THORN IN THE HEART (L'Epine dans le Coeur) is a personal look at the life of the Gondry family matriarch, Michel's aunt Suzette Gondry, and her relationship with her son, Jean-Yves. Michel examines Suzette's years as a school teacher and her life in rural France. During the course of filming the documentary, Michel unearths new family stories and uses his camera to explore them in a subtle and sensitive way. THE THORN IN THE HEART had its world premiere screening in the official selection at the 2009 Cannes Film Festival.
SPECIAL FEATURES:
A selection of special features created or curated by Michel Gondry exclusively for this DVD:
A Brief History of the Harkis.
Techno Suzette.
Calendars Doodled - one year of drawings by youngsters.
Stop motion animation by Gondry collaborator Valerie Pirson.
Charlotte Gainsbourg's "Little Monsters".
Post-screening Q&A with Gondry at SXSW premiere.
In Conversation - A special event with Michel Gondry at SXSW Film Festival.
To purchase PPR permits for screening in a classroom or library or to a public group of less than 50 people when no admission is charged, please use

 

this listing.