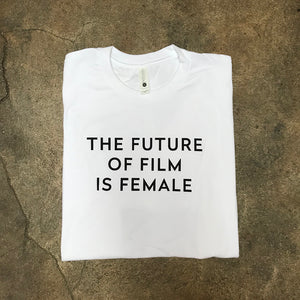 The Future of Film is Female T-Shirt
O-Scope has long committed itself to amplifying and championing female filmmakers. In fact, we'd wager a red hot dollar we're one of the top distributors of female-directed films, by percentage.
Naturally, when we saw THE FUTURE OF FILM IS FEMALE shirts, we had to have some. We like wearing 'em so we figured you would, too. Represent, Represent.
All proceeds from "The Future of Film is Female" project go to female filmmakers with a short film in any stage of production.