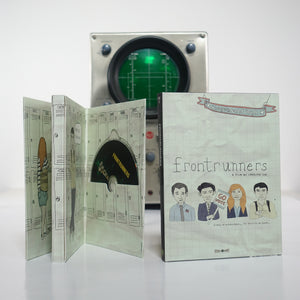 Frontrunners
FRONTRUNNERS is a smart and funny political documentary that follows the student council presidential campaign at one of the country's most prestigious public high schools: Stuyvesant High School in New York City. An entertaining and symbolic campaign film, put forth in classic verité style, we follow four charming and idiosyncratic candidates as they navigate an electoral process that is said to be one of the most competitive at the high school level. These teenaged candidates face the same issues as candidates of any age, such as picking the 'right' running mate, shaking as many hands as possible, preparing for televised debates, impressing the pundits and journalistic community, addressing sensitive race-related issues, and mobilizing an apathetic voter base. A microcosm of the U.S. Presidential elections, Caroline Suh's film shows politicking and pluralities through the lens of the adolescent experience.
SPECIAL FEATURES:
Crisp new 16:9 anamorphic transfer.
Commentary by the candidates with Director Caroline Suh.
The complete "Televised" Presidential Debate.
George's Lounge.
Additional footage with the candidates.
Features music by indie rock bands The Oranges Band, Elf Power, Of Montreal, The M's, and others.
To purchase PPR permits for screening in a classroom or library or to a public group of less than 50 people when no admission is charged, please use

 

this listing.